Details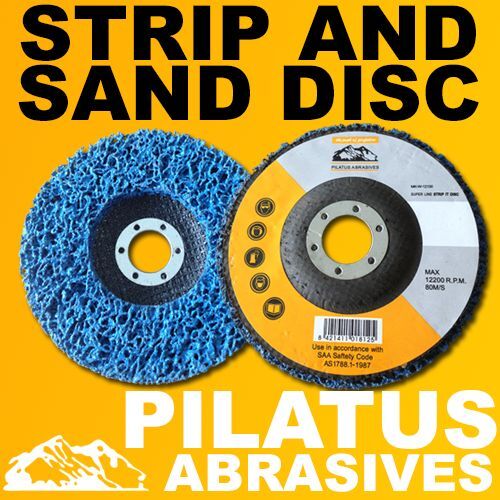 20 x 125MM POLY STRIP DISC WHEEL PAINT RUST REMOVAL CLEAN METAL ANGLE GRINDER

Amazing product for use on an Angle Grinder. Very fast removal of paint or rust WITHOUT damaging the original surface. Excellent for removal of paint or rust off car panels - also great for use on wooden or fiberglass surfaces. Ideal for cars, trucks, motorcycles or boats.

FREE POSTAGE ON THIS LISTING
About Us:
Pilatus Abrasives is a brand created by Abrasive Industrial Distributors in Perth, WA. Since 1981, Abrasive Industrial Distributors has been serving the abrasives requirements of industries and hobbyists alike. Abrasive Industrial Distributors (AID), a Western Australian owned company, has been supplying a complete range of abrasive products – from the everyday consumer items to those that are very specialised.
AID specialises in stocking uncommon abrasive products, wire wheels, brushes, diamond and CBN products. We also offer professional advice on product use, and can solve most problems relating to cutting, grinding, polishing, buffing or cleaning. Our direct sales team is available to assist you with any queries and are always happy to serve you, from the smallest company to the largest.
Operating Hours:
We are open strictly Monday to Friday from 8am to 4pm (WA Time).
We are CLOSED on Weekends and Public Holdays.

Contact Us:
Please do not hesitate to contact us if you have any questions / comments.
Abrasive Industrial Distributors
| | |
| --- | --- |
| Address | 28 Mccoy St, MYAREE WA 6154 |
| Telephone | (08) 9330 5811 |
| Facsimile | (08) 9330 4447 |
| Email | sales@abrasiveindustrial.com.au |

Our Mailing List:
By purchasing from our eBay store your email address will automatically go onto 2 of our marketing lists.
1st List: EBAY Only specials
2nd List: All our regular customers Specials and News

If you would like to opt out from either or both lists you can simply email us at sales@abrasiveindustrial.com.au and let us know, or you can unsubscribe from the emails when you get them by clicking the link at the bottom of the email.

Additional Information
| | |
| --- | --- |
| Grit Code | N/A |
| Size | 125 x 22 MM |
| PK Size | 20 |