Description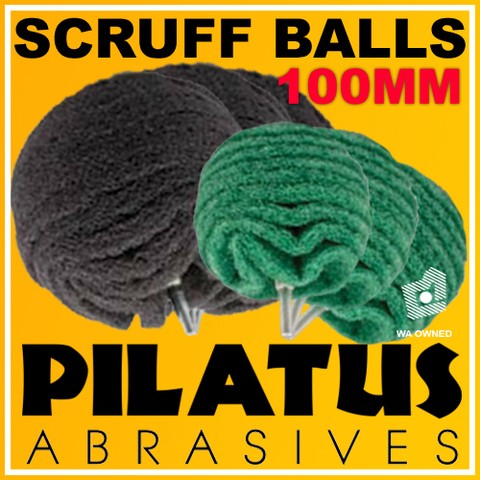 100MM PILATUS SCRUFF BALL


MEDIUM (GREEN)




AVAILABLE GRADES:
MEDIUM (GREEN) VERY FINE (MAROON) ULTRA FINE (GREY)
WHAT IS IT?
The Pilatus Abrasives Scuff Ball is made up of individual layers of non-woven material, The layers are assembled and compressed into a ball, which is then mounted on drive shaft for use on power tools.
FEATURES
Flexibility, the non woven abrasive is soft and adaptable to unusual shapes
Consistent finishing quality, the continuous exposure of new grit means the consistency of the Scuff Ball does not change throughout its entire life
Resists clogging, open web design, and 3 dimensional texture, loses the abraded material
Wont overheat Open web design allows for a highly efficient air flow.
Easy to clean, using water, or compressed air, removes excess abraded material for a fresh start.
BENIFITS
Power Scuffing, replaces labor intensive hand scuffing
Improved Performance, the ball shape provides superior performance over hand scuffing, and reduces the job time.
Versatile 5 different materials for different applications.
Durable superior ball construction lasts longer due to self renewing scuffing surface.
Convenient Scuff Ball works with most drills and electric or pneumatic grinders.
FREE POSTAGE –
AUSTRALIA WIDE
NOTICE TO ALL CUSTOMERS:
As we manufacture all belts on site in Perth, WA there is a production time. Some of the really popular sizes are kept in stock, but most are made when ordered.
The average production time is 3-5 business days. So if you order on a Friday, they'll start to be made on Monday and be shipped out to you between Wednesday and Friday. Then, we obviously have the shipping time for AusPost.
ITEMS WE MANUFACTURE:
All Velco Sanding Discs (Except the 150MM with No Holes – Green Discs)
All rolls of material (We stock jumbo rolls and need to cut them down)
Everything else we stock, and unless notified via email, they will be shipped within 1 business day.
If you have any questions, please feel free to call us. We are open 8am to 4pm (WA Time)
(08) 9330 5811 or email sales@abrasiveindustrial.com.au